We're resting on this cozy rainy day in Trim.  Hunkered down in our lovely hotel drinking tea, it's a catch up day for both rest and administrative work.
I'm CONTEMPLATING going for a long easy run but I haven't got further than that so far.  I hear that there are some lovely trails out behind Trim Castle and throughout town.  I'll see what the day brings and will definitely go for a jaunt at some point. Maybe after a wee afternoon nap.
And who knows, if we wait long enough, the rain may or may not stop.  :-)
The rain did not stop.  And no run in the afternoon but we did get a lovely late afternoon walk in the rain exploring the Trim Castle grounds and the ruins of St. Mary's Abbey which was located off of, yes, Abbey Lane!
After that, a dinner at Franzini O'Briens restaurant at the foot of Trim Castle.  A lovely way to end our day of rest!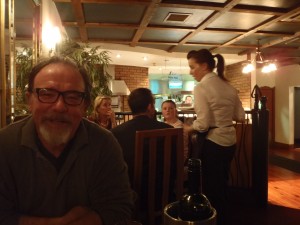 Dinner at Franzini O'Briens restaurant, Trim