We played the  last 2 shows of our tour today plus 8 hours of driving so it was a full Rathskallion day.   At 5 am it was  cold and drizzly so I opted for an hour of indoor weight training and stretching instead of a soggy run outside in the dark.
Our first morning show at Belleisle ES in Springfield, NB was an absolutely wonderful group of students and staff.  At the end of our full 1 hour show you could have heard a pin drop as we finished presenting the Maddie's Moon story.
We had to dash afterwards as we had a 2 1/2 hour drive to our next school. Had we been able to linger, I would have been tempted to have a swim in their pool.  Belleisle ES is the only school that we have seen in Canada or anywhere that has a pool attached. Great for students and the community!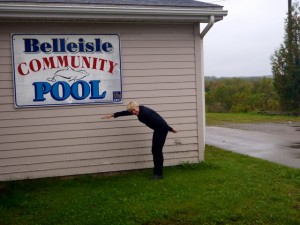 Onwards to Florenceville ES where it was the third time that this school has hosted our show over the years and it was wonderful to be back. A fine group to end our 14 show tour with and we then began our 5 1/2 hr drive to Quebec City for our last night on the road.  It's been a different hotel for 11 of the 14 nights with the exception of 3 straight nights in Grand Manan.  Most mornings of touring there is that waking drowsiness of the questions: " Where am I?  What day is it?  How many shows today?  Is it raining?"
We do have our packing and unpacking down to a fine science though and Arthur's fitting everything into the van is a true work of Art! :-)