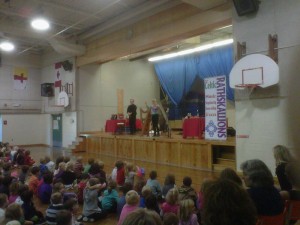 The day began with a lovely early morning run exploring the downtown of Middleton (all of 20′) as the sun rose.  Chilly and fall like weather is now upon us.  We have 2 shows today:  Annapolis East ES this morning and Bridgetown Regional ES  just down the road for an afternoon show before taking the Digby ferry back to New Brunswick.
It's a relief not to have morning rush hour traffic in Middleton to worry about….or will we??
I've also been corresponding in the early mornings with our upcoming performance venues in Ireland. That 3 week tour begins 2 weeks from today.  Not a lot of rest for Rathskallions this fall!  :-)
The end of the day….2 well received and fun shows today.  A foggy late afternoon ferry ride.  We've taken this ferry 3 times in past tours and EVERY time we seem to attract the fog.  Oh well.  We got administration work and emailing done during the 3 hour trip and lucky Arthur…no having to drive.  He seems to do MOST of the driving while on tour since I tend to sleep a little too easily while in a moving car.