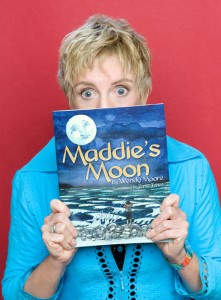 An engaging and entertaining multi-arts experience for primary/junior students that includes components from the literature and music sections of the Ontario Elementary curriculum.
Wendy Moore's delightful presentations feature her published and illustrated stories Maddie's Moon and A Tune For Maddie as well as story-based songs and drama. Her interactive sessions encourage singing along, participatory actions to songs, and the development of listening skills. With a B. Ed. and a B. Music, Wendy is a specialist in primary junior arts education. She is the founder, leader and a featured performer with The Celtic Rathskallions whose CD All Around the Circle was nominated for Best Children's Album at the 2008 Canadian Folk Music Awards. Wendy's story Maddie's Moon has sold over 3,000 copies and as part of her show, Wendy dramatizes and sets this story to music. Maddie's Moon is about a young girl who plays the tin whistle and the story encompases the themes of bravery and of following your dreams. In the sequel story, A Tune For Maddie, Maddie plays the harp and this story explores the themes of understanding and generousity. Students will enjoy participating in such songs as The Unicorn Song, The Ghost Song, Mary Mac, and Rattlin' Bog. Other songs in Wendy's repertoire include I's the B'y, I Know a Young Maddie, Donkey Riding and many more. During the show, Wendy performs on Celtic harp, guitar, electric bass, bodhran, tin whistle and is often accompanied on guitar by one of her sidemen.
Details
Cost : $250.00 plus HST
Half day (two 45 minute sessions): $450.00 plus HST
Full day (four 45 minute sessions): $800.00 plus HST
Venue requirements : library or similar venue
Grades : JK – 4
Size : 4 classes or less per session
Resource materials included :
50 page Curriculum Resource Guide detailing the literature and music components that Wendy covers for grades 1- 4 during her show. Words to songs are also included.
Master copies of activity sheets
Maddie's Moon and A Tune For Maddie storybooks
Copy of the CD All Around the Circle that includes songs included in The Maddie Show and a narration of Maddie's Moon
Presenter tools
Click on a photo to view and download high-res version for promotional use.
Download promo photos for The Maddie Show (11.2 MB zip archive)