Show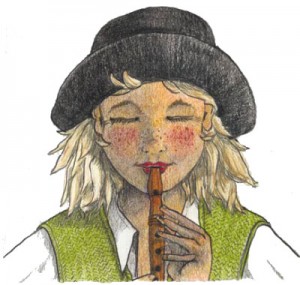 Invite Wendy Moore – and Maddie, of course! – to engage primary/junior students with this entertaining, multi-arts experience that includes components from the literature and music sections of the Ontario Elementary curriculum.
Maddie's new book is hot off the press!
"Wendy Moore's delightful 'A Tune for Maddie' is a magical musical tale with a great love for the Irish folk tradtion from which it takes its spirit." Sharon, Lois & Bram
A Tune for Maddie has just been published and features gorgeous illustrations by Janis Jones. In this sequel to Maddie's Moon, Maddie discovers the harp. To learn more or to order, visit the store.
Wendy's delightful presentations feature her published and illustrated stories Maddie's Moon and A Tune For Maddie as well as story-based songs and drama. Her interactive sessions encourage singing along, participatory actions to songs, and the development of listening skills. A specialist in primary junior arts education, Wendy is the founder, leader and featured performer with The Celtic Rathskallions whose CD All Around the Circle was nominated for Best Children's Album at the 2008 Canadian Folk Music Awards.
Comments from Maddie's friends
The Maddie Show and The Celtic Rathskallions Show have both been a resounding success in schools across Canada as well as on tour in Ireland. Here are some comments from the world's toughest critics – the kids!
"I thought the book Wendy wrote was awesome. I liked the monster description too because we have been doing monster descriptions. Thank you for coming all the way from Ontario." Zach, Cardinal Newman School, Calgary, AB
"I loved how you sucked me into the story and I listened so hard I almost said the words." Isaiah, Cardinal Newman School, Calgary, AB
"If I had a show or two I would put you on it. I want to hear you again." Harasees, Roberta Bondar Public School, Brampton, ON
"I love how you play your music and how you sing. I also loved when you did the story because it was scary and funny but it was very happy most of the time. Keep on going!" Alexus, Roberta Bondar Public School, Brampton, ON
"My favourite part of the performance was when you read the story about Maddie's Moon. I read it myself. It was fantastic." Aine Leonard, Ardkeeran National School, Riverstown, Co. Sligo, Ireland
"Thank you for the brilliant performance. I was the first person to read your fantastic book, Maddie's Moon.. I kept singing your song about the bog in Ontario. Sean O'Grady, Ardkeeran National School, Riverstown, Co. Sligo, Ireland
"I really liked the story Maddie's Moon. It was breath taking. Your show is really good and you should get a gold medal." Aaron Crawley, Ardkeeran National School, Riverstown, Co. Sligo, Ireland